Late Sunday evening on October 20, 2013, melt-banana stepped up on stage and blitzkrieged Salt Lake City's URBAN LOUNGE with a fury reminiscent of a couple of Pokemon's on methamphetamines. I couldn't possibly tell you which song they started off with, nor the titles of any of the songs they tore through last night. Suffice it to say I believe they've engendered a new genre, "Playstation Grindcore", and all the hipster bearded kids with earplugs and horn rimmed glasses seemed to like 'em well enough.
This is Onuki. Her vocals may be described as a spastic cartoon creature on helium plugged into an electric socket. She held this weird palm pilot gizmo with multicolored lights and a blue glowing ring on it in her right hand, sweeping it around and holding it at odd angles, until I realized it must have a movie camera function. I think it's a weird Japanese iPod mutation which she records their live performances with, because she kept aiming it towards her bandmate, Agata.
It occurred to me that Agata may actually wear his surgical mask not for any aesthetic reasons, but in order to prevent him from contracting any viruses from having been exposed to large international crowds every night while they're on tour. Whatever the reason for the mask, it looks sick as all get out and has become a trademark image for this post punk psycho Nintendo grindcore band.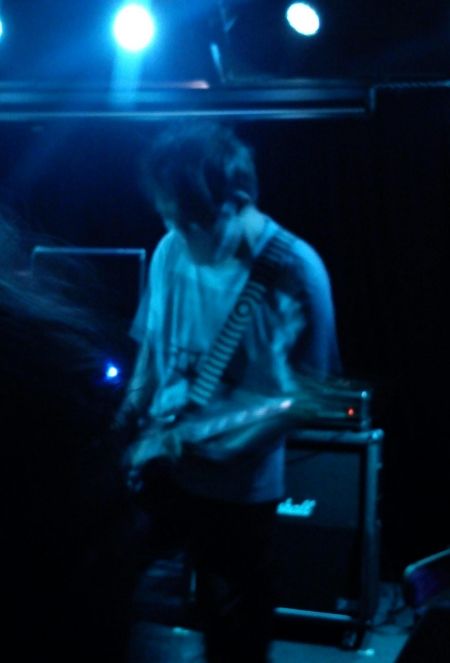 The main complaint was the loss of their original bassist, Hamamoto. It's really too bad they've been stripped down to a two-piece. However, the two remaining members of this freakish outfit truly delivered the brain melting blastbeats and psychokinetic guitar attacks courtesy of Agata. I heartily recommend melt-banana if one is in need of staying awake late at night or has perhaps run out of coffee or crystal meth. On the other hand, if one values their hearing and wishes to keep the tympanic membrane of their inner ear from being eviscerated, one might choose to either wisely bring earplugs, stand far away from the speakers, or simply bow out from attending their shows.
As for the rest of us whose Cochlear nerves have withstood torrents of inhumanly loud grindcore and other variations of extreme metal without seeming to have suffered much from it, I urgently beseech thee to get thyselves to the next melt-banana show and let the exterior layers of your psyche be blasted away into another dimension. I'm glad I went despite the fact it was a Sunday night and I had to be at work early this morning. It was considerably better than going to Church.