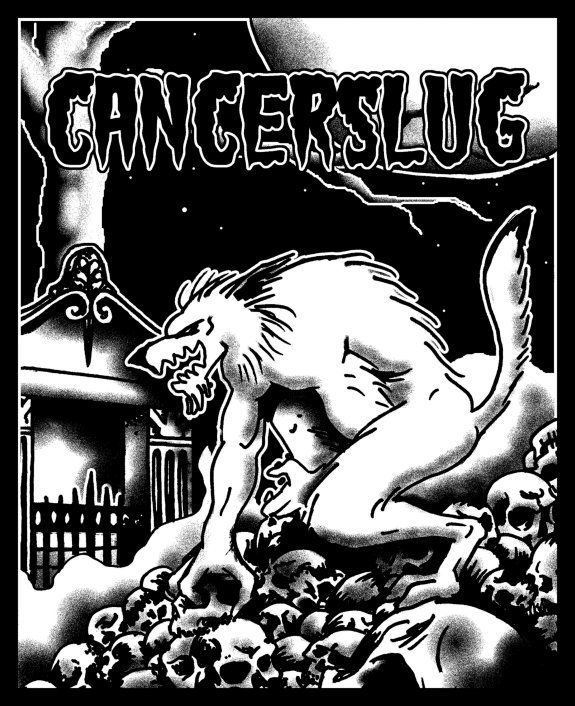 Short & Sweet Review
Cancerslug ruled at The Metro in SLC

.
Setlist cut short to 45 min by the venue.
Attendance was very poor -- maybe 25 peeps by the stage.
Crowd was lame -- cept for a very few die-hards up front center.
Got my schwag + rare CS vinyl = Glad I went

=

\m/
Long & Brutal Review
I was so pumped up for Cancerslug to hit SLC, I networked the entire Horde throughout this pestilential withered up valley, figuring I could generate a solid turnout to a show that just smelled legendary, and who could fucking blame me really--it's CANCERSLUG. Well not only did every last one of my friends blow me off--nobody showed up, every single one had some lame excuse, well guess what. They didn't miss out on

too much

because THE METRO cut their damn set short. To all my friends: you

may have

saved yourselves

14

bucks but you

missed a

w

ick

ed 45 min set despite the lame crowd who just stood there like p

rotein

deficient zombies drooling on

their shoes. I was

so pumped for this show

. I wore my contacts

so my

glasses

wouldn't

get shattered. But if you were only there--you, too, would have

stood by

stupefied by the

few brave souls

that gathered in front of cancerslug fist pumpin' away. Well weak turnouts happen all the time

, I'm just bummed it happened here in SLC with CS.

Otherwise the

band's short, sharp set kicked ass.

They

started

off their set with a rousing rendition of Die On The Battlefield to some fist pumping from the crowd. More than once during the intro for the first few songs, Alex mentioned in his usual way "you can dance to it, you know what that is right, you move your body around, try it you might have some fun," and made some disparaging observations about what he must've assumed to be a Mormon crowd, so completely lifeless. Second song is my favorite off their latest, "Generation Behind." Me and a couple of others were the only ones who began dancing right then. I thought to myself surely someone will shove me and start the pit up, but it never came. If you're reading this you're probably wondering well then why didn't you start the pits

--

and all I have to say is, one look at these miserable fucksticks was enough to fill me with pity for them. Oh s

hit, triggerwarning.

Granted there were

several

real fans front center headbanging and showing their support; but the rest of the crowd (maybe 25 people in all) were over the hill sad sacks in their denim jackets holding on to their lukewarm beers, or young kids too

a-feared

for having strayed that far from their local chapter's teats, I guess. I just didn't have the heart to shatter their forlorn world. Meanwhile, Alex is obviously getting just a tad disgustipated with the lack of slam dancing, and I knew then they weren't going to stick around much longer--and who the fuck could blame them

.

At one point, Wolfman made another deri

sive

comment about where were the pitchers etc. Ironically enough, I was going to buy pitchers for any of my friends who showed up, but considering it was a Thursday night, I suppose I should cut them some slack for their excuses. Well fuck al

l

that. They missed out on a cancerslug set, albeit aborted by the dumbfounded dipshits standing around like they've never been to

this sort of a

show before. And I can't stress enough that it's

too bad

none of my die hard friends showed up, on account of what a fucking lame evening it turned out to be--or should I hold them accountable for not showing up?-Ha, maybe- cuz if only six of them had done so, we would have had some real fun then--and awoken the primal beast inside cancerslug that was just waiting for the shit to explode. The only thing that's crystal clear to me is that the evening was absolutely not cancerslug's fault, who gave it their all only to be returned dead stares and the few obligatory shouts and fist pumps at the end of each song. Sure, it had something to do with it being a Thursday night, I get that, but--fuck The Metro

that night.
*[Note: I found out after the show, from one of the slug cult members, that the real reason their setlist got cut short, was The Metro schedules their dance DJ for 10:15--forcing cancerslug to leave by then. So that's where the total and complete bullshit came from

. O

nly after the band packed their equipment away did kids start to dance

--

to the DJ music.

It's pretty p

athetic on a level I can scarcely comprehend.] I fe

el like

never stepping foot in that gawdawful club again, I don't care who plays. Don't ever book yourselves at this lame ass disco wannabe sorry excuse for a sad clown pancake makeup crusty goth dance club.

Anyhow

, cancerslug wrapped up their set but quick,

seemingly

disgusted with the SLC crowd

, but there's always more to a story lurking beneath the surface.

I was fucking mortified and ashamed by

the turnout.

A total embarrassment for Salt Lake

.

I went to the bar and bought a pitcher for the band after just a few songs--the bartender gave me 3 plastic cups to go with it--informing me that the guitarist didn't drink. So I purchase an additional pint of the amber beer for myself, and head over to the front of the stage, and place the full pitcher up there, with the glasses, so the band can clearly see I bought them the beer that Alex had derided us about. Turns out they never ended up drinking any of it. I didn't even get a chance to drink any of it--I was going to share with them, ya know--but to give them credit, they were exhausted from driving miles through the mountain, "pneumonia brought us to you" explained Dick Solid, and they were hell bent on driving the hell out of Dodge. And who

wouldn't respect that.

The slug cult knows they're also "Dick Solid & the Ratchettes

...

now that we're not cancerslug

;

" it's an in joke.
I don't hold any of this lame Thursday night against them, I could see how pissed off Cassie (their awesome bass player) was. So I helped the band lug their equipment off the stage to facilitate their escape from this boring pit stop of jerk offs. Then outside, Cassie showed me their merch, and I bought one of the few remaining die hard vinyls (dark green) of their very first LP on vinyl release
seasons of sickness...
They wanted $35 for it which really rubbed me the wrong way at first, but I relented on account of the fact I just wanted to help support the band, help them on their way across this desolate western landscape so they could hopefully have a better time in the next city (Idaho Falls). I intended to get two T-shirts because I was bound and determined to hook up my friend Vince Daemon, who turned me on to this fucking killer band. Cassie did not seem happy with me at all

--

she just wanted to get the fuck out of that place

--

and I don't blame her

!

I probably came off like a dick myself, because no matter what I said, it was met with turned heads or ignored. Just one of those nights. The band was mostly super nice to me. Mike their drummer was

so

cool, and I got to hang with Alex Story out in the parking lot, he was

extremely

cool to me. Like I said I don't blame Cassie--I would've been fuming myself had I been in their place. Here's to hoping I catch up with cancerslug another time in another venue

--

so we can have some real fun together slam dancing as the Devil intended

, heh.

Here's to you Cassie *raises beer* and everyone in the band

, and all their fans.

I apologize

d

to every member of the band on account of the super lame crowd that night. When their set finally ended, cut short after

the

45 minutes

--

the pathetic excuse of a crowd applauded as if they were at some tea party instead

.

I shouted out loud, "I APOLOGIZE ON ACCOUNT OF MY HOSE HEAD BROTHERS AND SISTERS IN SALT LAKE" which was uber ner

dy and

came across all wrong, so fuck me. Even my best friends who were no shows, lucked out

on missing me

I guess. They would have wasted their time and money on account of the dead crowd literally aborting the cancerslug show. I had to empty my pockets at their van of all the cash I had left on me--$68--after having bought the band a pitcher they never even got to drink. It just wasn't in the stars that night.

But

I ended up with a cool patch and a shirt and the killer vinyl, which was supposed to end up being a total of $70--

so

we cashed out and they

left. Can't blame 'em one bit for wanting to just move on down the road to (hopefully

)

a better venue and crowd. It was an ugly experience befitting the spirit of wretched, rotten nihilism permeating the

cult

. I had an ugly time with a small crowd of dead beats, but we got to listen to a killer sounding se

t. That's what matters.

I can't repeat enough that it wasn't the band's fault. Their set albeit cut short was stellar rock and roll fury. I'm so fucking stoked I decided to give em all my money to end up with this vinyl LP because it is
fucking killer
! There is no doubt I made the right choice.

I'm listening to it now--gotta flip it over to side 2 in fact, for some lessons in death. I had half a mind to let Alex carve the crescent moon crossed by a lightning bolt that signifies CS right between my shoulder blades with his knife, as a sort of penance

--

haha/deadpan

kidding--fuck that.

I sure hope they fared better in Idaho Falls, because The Metro crowd was an embarrassment I'll never live down. And hey, Vinnie: no, I didn't snap any pics, because my cellphone is a sorry piece of shit. Neither did I have em sign my vinyl, just meeting them was enough for me. I'm damn lucky to end up with this flagship die hard vinyl first edition for the band. A legendary underground item if there ever was one for this sick and jaded age. Nothing again will be alright for you and I are on this road to hell relax and let it burn. Your fear and pain now are setting like the sun. Fuck all of you, I'm done.